Roofing in Columbia PA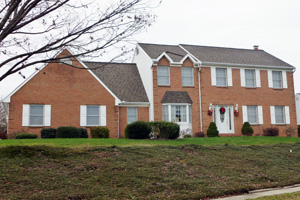 The weather in Southeastern Pennsylvania can do significant damage to a roof. In many cases, after many long winters of heavy snow and ice, your roof will need to be replaced entirely. Abel & Son employs professional roofing contractors in Columbia PA that have years of experience and the know-how to get the job done right.
Receive a Free Roofing Quote Today
Upgrade Your Roof: Longevity & Durability
A severely damaged roof must be replaced immediately. If, however, your roof is still intact and in good condition but has not been replaced in years, consider upgrading to architectural shingles. These types of shingles are more durable than other materials and last much longer.
We're a roofing company that serves Columbia PA and can replace your current roof with architectural shingles for an affordable price. If you're unsure whether or not this type of upgrade is right for you, contact the experienced roofers at Abel & Son for some free advice on how to better protect your home next winter with the right roof.
Make Your New Roof Last for Decades
Having to constantly replace a roof every few years can be a hassle and a financial headache. Many residents find this to be an unavoidable truth in Pennsylvania.
Because of durability, rubber roofs can last for decades through the harshest of weather conditions. They are less likely to need repair and are easily installed by professional roofers. The material is also fire resistant, which provides additional protection for you and your family, so if you have a flat roof this is the perfect choice for you.
Contact A Roofing Contractor for Columbia PA
Finding reliable and affordable roofers in Columbia PA to complete your roof replacement project can be a real challenge. There are many roofing contractors in Columbia PA but here's why Abel & Son is the best.
Competitive Bidding – We pride ourselves on working for a fair price and sticking to it. There's nothing worse than dealing with a roofing contractor that won't stick to a budget and Abel & Son is sensitive to that.
Trusted Employees – Our roofing contractors know what they are doing because they have years of experience. Our staff is trustworthy, reliable and efficient. We'll get the job done in a timely manner and always to your satisfaction.
Raving Fans – We have excellent references from previous customers that's a great indication of what your experience will be like. We value all of our roofing clients and appreciate the word-of-mouth business from them.
We prides ourselves in offering the best customer service in Columbia PA. Whether you need a replacement roof because of damage or you just want to protect yourself from the perils of next winter, Abel & Son can complete your project for a reasonable price! Contact us today!