Abel & Son: The Trusted Choice for Roofing in Harrisburg, PA
In Harrisburg, roofing systems are put to the test every time that the high-speed winds blow, heavy snowfalls or rain begins to pour. A small leak can easily turn into a large problem and require an entire roof replacement when left unattended. If you need new roofing in Harrisburg, PA and you would like to hire roofers that you can trust, Abel & Son is the company for you. Founded in 1992, Abel & Son is a family-owned and operated Harrisburg, PA roofing company that has more than two decades of experience in offering quality installation services to homeowners.
Why You'll Love Working with Our Harrisburg, PA Roofing Contractors
Choosing between all the roofing companies Harrisburg, PA has to offer can be a tiring task when you do not know what to look for and what sets one company apart from another. When you are entrusting a company to install the most important systems on your home, you want to know that they are trained to properly perform the installation safely. Abel & Son has a team of Harrisburg, PA roofing contractors that are fully licensed and insured, in addition to being the recipient of several awards.
The Harrisburg, PA roofing contractors at Abel & Son will speak with you to discuss your needs and your material preference so that they can recommend a well-working product for your needs. Architectural shingles can last as long as 30 years and will look newer than the common shingles that are used by other roofers in the area. If you have a flat or low-pitch roof, the installers may recommend a rubber roofing material for enhanced protection and durability without all the maintenance.
Contact Abel & Son today to receive a free Harrisburg, PA roofing quote!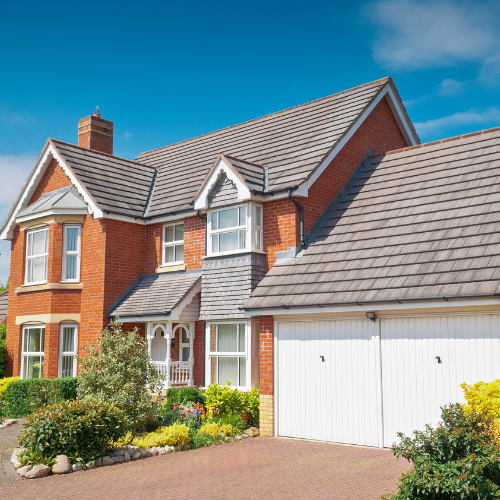 A Harrisburg, PA Roofing Company that is Dedicated to Using High-Quality Materials
When investing in a new roof, you want a system that will have the longest possible lifespan. Abel & Son is one of the most trusted roofers in Harrisburg, PA because we install only the best materials that can withstand wind and resist stubborn algae and unsightly black streaking.
While there are many Harrisburg, PA roofing options, we take the time to truly understand your specific needs and recommend the best materials for your roof. One of the most common and most recommended Harrisburg, PA roofs is shingle roofs. We install TAMKO® Heritage roofing shingles for homes of all sizes in the area. These shingles are high quality, durable and long-lasting. They come with a 30-year warranty and a 10-year algae warranty.
Choose from a wide variety of colors including brown, timber, grey, redwood, and black as well as 10 other colors so that you can match your roof with your existing exterior.
Contact Abel & Son for Quality Harrisburg Roofing Services
Abel & Son is a family company that believes in treating each client like family. If you want a company that stands apart from other Harrisburg, PA roofing contractors, choose Abel & Son and your project will be done the right way without delay.
Just because we specialize in Harrisburg, PA roofing doesn't mean our expertise stops there! If you're looking for roofing, vinyl window replacements, or siding contractors in the area, Abel & Son has you covered. We provide the highest quality work, using the best products on the market today. Get in touch with us today for professional roofing in Harrisburg, PA, and surrounding areas.