Roofing Jonestown PA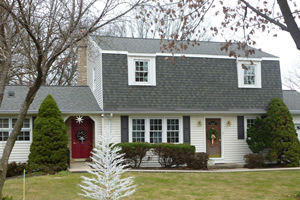 The roof is one of the most important parts of a house – it is what keeps you protected from the hot sun, the wet rain, and all of the other elements. If your roof is not up to standards, your house can end up getting seriously damaged. This is why it's important to have a good team of Jonestown roofers on your side, like Abel & Son, the most professional roofing Lebanon PA has to offer.
Get a Free Quote & $100 Coupon Today!
Working with Abel & Son
If you're looking for trusted, qualified roofers in Jonestown PA, you've come to the right place. Abel & Son is a leading roofing company in the Jonestown area, and we would love to apply our experience to you in order to get you under a sturdy, high-quality roof in no time at all. In addition to roofs, we also focus on windows and siding, so the whole exterior of your home can be easily taken care of by us.
We provide excellent customer service and work closely with you to ensure that you get the exact final product you're looking for. Everyone on our staff is both friendly and professional, so you will enjoy working with us as much as we will enjoy working on your roof. We pay incredible attention to detail and don't rest until the job is done right, but we also specialize in prompt project completion, so we will be out of your way in no time.
Our Roofing Policy
Please note that we do not do repairs: if only a section of a damaged roof is replaced instead of the whole thing, it may not end up fixing your initial problem. This is why we only install or replace whole roofs instead of doing any sort of repairs- we want to ensure that your roof is perfect.
Call Today
We would love to meet with you to discuss the specifics when it comes to your roofing needs, so don't hesitate to give us a call at your earliest convenience. We can assure you that we won't leave until the job is done perfectly, and out of all the roofing companies in Jonestown PA, we're confident that your expectations will not only be met, but exceeded when working with us. Get into contact with Abel & Son today!