Top Roofers in Lancaster, PA
If you are looking for a roofing company for your Lancaster home, Abel & Son is the team to call! We offer the best roofing services around thanks to our team of courteous and experienced roofing contractors! Choosing the right team that understands the process and materials is clearly important. With years of experience and hundreds of happy customers, you can rely on our Lancaster, PA roofers to help you choose the right product for your roof. Don't let the sometimes-harsh weather in Lancaster add expensive damages to your home. Get the peace of mind you deserve and know that your shingles are installed correctly and will last for many years. We have done hundreds of roofing projects over the years, and we are very proud of our reputation as one of the top roofers in Lancaster PA.
The Lancaster Roofing Company That Gets the Job Done Right
Most Lancaster-based roofing companies often install asphalt shingles, and we also recommend that type of roof materials for most homeowners. Asphalt shingles are an ideal choice for the weather in Lancaster because they are affordable and designed to last for decades. We offer TAMKO® Heritage roofing shingles for homes in and around Lancaster PA.
TAMKO® Heritage shingles are high quality, durable and long lasting. They come with a 30-year warranty and a 10-year algae warranty. They come in a wide variety of colors including brown, timber, grey, redwood and black as well as 10 other colors so that you can match your roof with your existing siding and enhance the aesthetic appearance of your home. Our Lancaster, PA roofers also have experience with rubber roofing on low pitch or flat roofs. This application is durable and maintenance free, so it's a smart choice.
Learn the 5 ways to tell if you need a new roof!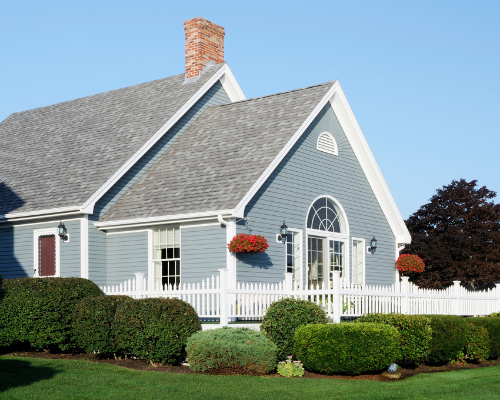 Lancaster Roofing Contractors Specializing in Asphalt and Rubber Roofs
Asphalt shingles and rubber roofing are among the top choices for roofing materials for residents in Lancaster PA. If you are looking for a way to upgrade your roof and keep your home protected, one option may be better than the next. These types of roofing materials are very low maintenance and suitable for town homes or row homes with flat roofs. If you live in the city and your roof is flat, we recommend our high-quality rubber roofing. Lancaster PA residents can count on us to provide the best roofing solution that not only looks good but lasts for years. This material is also fire resistant, which is why it's the perfect choice for attached houses.
Contact Our Experienced Lancaster Roofers Today
Abel & Son is a full-service Lancaster roofing company that offers a range of different services for customers in PA. In addition to new roofs, we can also do inspections of existing roofing and will talk to you about your roofing options. Thunderstorms with strong winds and some hails are common over the summer months in Lancaster and can cause damage. Many times, storm damage is covered under your homeowner's insurance policy, and our Lancaster, PA roofers will help you through the process.
A new roof is a great way to improve your home's curb appeal and protect your family from the weather, but not all Lancaster roofing contractors are the same, so do your homework and make sure if you talk to other roofing companies that they have the experience, credentials, and authenticity that we do. We offer free estimates and would be happy to serve you, so contact our Lancaster, PA roofers today.