Roofing Marietta PA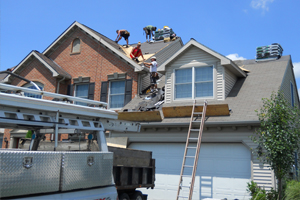 The roof of a home is designed to be structurally sound and durable enough to withstand daily exposure to harsh elements. However, over time, all types of roofs can deteriorate with normal wear and tear, and they will need to be upgraded so that they continue to protect the home. In some cases, severe weather or other forces can damage a roof. When the time comes to replace your home's roof and you are looking for quality roofers in Marietta PA, you do not need to look beyond Abel & Son. We are a family owned business that has been serving the community since 1992, and we are the Marietta roofers that you can count on for assistance with your roof replacement.
Trusted Marietta Roofers
While there are other roofing companies in Marietta PA that you can turn to for assistance with your roof replacement project, we are your best choice. We strive to provide first-class service from start to finish. From answering your questions with honest and integrity so that you make an informed decision about your property to cleaning up the work area at the end of the project, we cover all of the bases. We utilize only superior materials to ensure that you love the end result and to promote the longevity of your roof. We will also provide you with an up-front estimate for your project so that you are not surprised with unexpected expenses at the end of the project.
Because our goal is to provide you with all of your exterior home service needs, we can assist with the installation of multiple roofing materials. For example, we offer installation for both asphalt shingles and rubber roofs. In addition, we also provide you with siding and window services. Regardless of how large or small your exterior improvement or replacement project is, you can rest assured that you will receive the quality results you need when you trust Abel & Son as your Marietta roofers.
Whether you believe your roof has reached the end of its life or you can see signs that it has been severely damaged and requires replacement, you can reach out to us today to set up an appointment. We understand the urgency of your request for assistance, and we will respond to your inquiry quickly. Contact us for the best roofing Lancaster PA has to offer and find out how our friendly and skilled team at Abel & Son can help you.