Roofing Contractors Middletown PA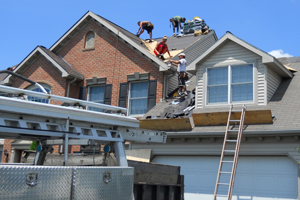 Replacing roofs can be stressful, expensive and dangerous, but selecting the right roofers can make that process easier. Hiring roofers in Middletown PA who understand your needs is an important step towards getting the quality services you deserve. Able & Son has the experience and equipment needed to replace your roof safely and affordably.
Get a Free Quote & $100 Coupon Today!
Trusted Roofers for Middletown, PA
While there are several roofing companies in Middletown, PA that homeowners can choose from when in the market, none can compare with Abel & Son. From our TAMKO® Pro Certified Contractors to our fair prices and quick turnaround times, there is simply no other local roofing team that can handle both large and small jobs like we can!
By discussing your project in detail, we can provide the best solutions and options available to meet your needs. Upgrading your building will increase your energy efficiency and make your heating or cooling costs more affordable. By using high-grade materials and quality workmanship, we strive to continue providing all our customers with great services at great prices.
Is it Time to Replace Your Home's Roof?
Keeping your investment safe and secure is an important step in maintaining your property. If you're like most homeowners and don't check the conditions of your roof frequently, it is easy for missing shingles and small leaks to go unnoticed.
Faulty roofs not only destroy the value of your property, they create foundation problems, inner wall damage and issues with mold and mildew.
Thankfully, there is a simple solution that actually can come free of cost to you! Abel & Son is a family-owned company of roofers in Middletown, PA based on family values. And, because of those beliefs, we are honored to have the privelege to simply come out to your home, evaluate any concerns, and provide a new roof price estimate absolutely free. You can call or complete our online form to schedule your appointment today!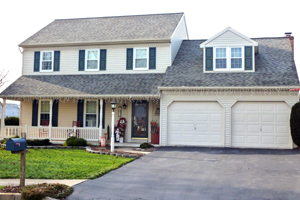 If you're looking for Middletown roofing companies, turn to Abel & Son. We provide high quality roofing products and timely roof installations. Our skilled roofing contractors are able to answer any of your questions so get in touch with us today!
Middletown, PA Roofing Options
After you know for certain if you need a new roof, you need to also decide what type of roofing materials would be ideal for your home and your needs. While there are many options to narrow down and settle on, thankfully our roofing contractors in Middletown, PA have been in the industry long enough to know a few of the best options.
Most commonly installed in this area are the TAMKO® architectural shingles which are much heavier, wind resisitant and charming than the average shingle brands. These shingles allow homes all throughout Middletown to acheive a modern look while also receiving a 30-year limited warranty.
Another popular option is rubber roofing. We recommend and install top-of-the-line EPDM rubber roofing for flatter and low pitch roof applications.
Get Your Free Quote Today!
Not all roofing contractors in Middletown PA, know how important it is to provide all the information needed for a reliable service from beginning to end. Able & Son, however, has been offering these services since 1992.
We arrive with all the necessary tools and equipment right from the start. Our experienced specialists will keep you informed throughout the project to reduce your stress and worry, which is why we are one of the top companies for roofing around. Contact us today via phone or email to get additional information or schedule a free estimate!