Roofing Company in Mt Gretna, PA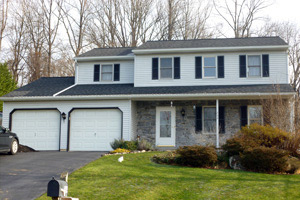 A Tamko Pro Certified Roofer, Abel & Son is the local roofer in Gretna, PA you can trust to repair, replace, restore, or install your roof. Since 1992, our skilled roofing pros have been providing an assortment of reliable roofing and exterior services to homeowners who appreciate top-quality results and equally high-quality products and materials.
Get Your Free Quote & $100 Coupon Today!
Roofing Contractors Serving Mt Gretna, PA
End your search for roofing contractors in Mt Greta with Abel & Son and you'll see why many of your neighbors in this part of Pennsylvania already turn to us when their roofs require attention. Whether you prefer a stylish and traditional asphalt shingle roof, a maintenance-free rubber roof, or a beautiful architectural fiberglass shingle roof, our roofing contractors will get the work done as efficiently and effectively as possible. After all, it's something we've been doing for homeowners for more than 25 years! Our seasoned contractors have experience with all types of roofing materials and all types of roofing profiles. Everyone on our team is also fully committed to:
Quality workmanship
Excellent customer service
Long-term, reliable results
A Roofing Company Mt Gretna Can Trust
Abel & Son is the roofing company you can call for any roof-related task in Gretna, PA. We're also at your service if you're looking for a roofing company in Mt Gretna to take care of leaks and other common – and some not so common – roofing problems. While we're easily accessible if you have shingles that have blown off, damage from roof penetrations, or a suspected leak you can't locate yourself, we're also available for preventative roof care and maintenance.
When you schedule routine roof maintenance, our experienced roofers will thoroughly inspect and assess your roof. Being proactive with roof care is also a smart way to enjoy added savings. Addressing problems sooner rather than later also minimizes the risk of being surprised by roofing issues at the worst possible time.
With inspections and preventative maintenance, you can expect our dedicated roofing experts in Gretna, PA, to:
Provide an honest assessment of your roof
Offer advice on what type of repairs or improvements may be necessary
Respectfully and thoroughly answer your questions
Make recommendations for preventative roof care if no significant issues are discovered
Roofing Services Benefiting Mt Grent, PA
Abel & Sons uses high-quality Tamko roofing materials when performing any roofing-related services that involve installation or replacement. This well-respected manufacturer's shingles are especially appealing since they come with a better than lifetime warranty.
With any new installation or roof replacement, you'll have the opportunity to choose from a variety of Tamko roofing products, all of which are designed to offer to maximum efficiency and value. Tamko shingles also come in an assortment of colors, so you'll have no trouble finding a selection that's a perfect match to your exterior preferences. We'll also give you an accurate estimate at a fair, competitive price.
Our reliable and affordable roofing services in Mt Gretna include:
New roof installations
Roof replacements and re-roofs
Proactive roof maintenance
Roof repair work
And because we're familiar with Mt Gretna and the surrounding areas, we can recommend roofing materials designed to stand up to the year-round weather conditions common in this part of Pennsylvania. If you are considering upgrading your roof's materials when it's time for a replacement, we can discuss the benefits of various materials to help you make a well-informed decision.
Get a Free Quote from Our Roofing Contractors Today
As a leading roofing company in Mt Gretna, we pride ourselves on offering prompt, attentive service in Gretna, PA, and throughout nearby communities. Choosing Abel & Son for your roofing needs means you'll receive an honest, up-front free quote before any work is done. We're also more than willing to answer any questions you may have about our services, fees, materials, processes, or anything else that matters to you.
Contact us today to schedule an appointment or request attention from our roofing contractors in Mt Greta.