Roofing in Mount Joy PA
Although roof repairs and restoration are inevitable over time, replacing your roof may also be required due to leaks and other damages. When your roof or other parts of the exterior need a renovation, you can turn to us at Abel & Son Roofing & Siding. We are industry leaders, so we know how to deliver the services you deserve. Do not prolong tending to your roofing! Instead make it happen by trusting a company who is known for the best roofing in Mount Joy, PA!
Roofing Contractors: Mount Joy's Best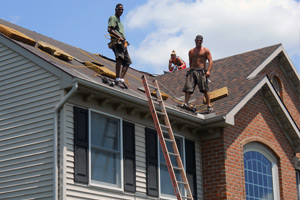 Why should you choose to work with us over any other roofing companies? We have the experience and knowledge to install the roof you rightfully deserve that will prevent any future damages caused by leaks and damages. We are a family owned business that has been around since 1992; we have years in this industry that our competition can't even compete with. We have amazing services in which we provide to our customers. When you hire us we will handle your exterior services for roofing, siding and window replacement with careful attention to details using high quality products that will exceed your expectations.
Roofers with Experience
Another reason to choose our company is because of our staff members, including our professional roofers. Each member of our roofing crew excels in giving a thorough inspection of your home to give you their expert opinion of what services you may need next.
Our roofing company not only cares about the condition of your home, but also the look of it. This is why you can rest assure that when you work with us at Abel & Son Roofing & Siding, you will receive exterior solutions that will add value to your home and curb appeal that will help your home stand out in the neighborhood. Here, your roofing, siding and windows will never look outdated, as we stay on top of what's in and what's not. It is reasons like this we are known as the best roofers in Mount Joy, PA.
Contact a Mt Joy Roofing Company You Can Depend On
Now that you know Abel & Son is the leading roofing company in Mount Joy, PA, it is time to give us a call. When you contact us, one of our customer service representatives will be more than happy to discuss with you all the different services we offer to our customers, so if you have a question please do not hesitate to ask us. Remember, it is always our mission here to serve you. After all, we are dedicated to providing our customers with the best service possible in the Mt. Joy area. Now is the time to get the roofing, siding and replacement windows you need. Get in touch with us today!