Roofing New Cumberland PA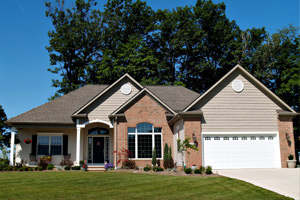 The roof is the only component of your home that bares the burden of protecting the interior of your home by keeping the elements out. Failure to install your roof properly the first time around can lead to expensive repairs, preventable leaks and a need for a premature replacement. If you are looking for roofers in New Cumberland PA who offer their clients high-quality installation services at a competitive price, Abel & Son is a trusted company that has been doing business in PA since 1992. Residential homeowners in New Cumberland who need a roofing replacement and want a good end result should turn to Abel & Son for their roof replacement needs.
Get a Free Quote & $100 Coupon Today!
Stylish Roofing Shingles
Your roofing system is a must when you want to keep the rain and snow outside where it belongs. Just because a system is needed for function does not mean that the functional structure cannot also be stylish. If you want an aesthetically pleasing roofing system that is also stronger and more durable, Able & Son specializes in updated architectural shingles that can last as long as 30 years when maintained properly or rubber systems that can last up to 50 years. Trust one of the favorite Roofing Companies New Cumberland PA has to offer, and you can bet you will receive great customer service and roofing service as well.
Recommended By Locals Throughout New Cumberland
Abel & Son is a family owned and operated business. This means that they have build the business from the ground up and believe in servicing their clientele as if they were part of the family. The company has built such a great reputation in New Cumberland over the past two decades that they have a large book-of-business and repeat customers who refer their own friends and family. If you want to do business with New Cumberland Roofers who are highly trained and often recommended, Abel & Son is the company for you.
When you hire a Harrisburg roofer to remove your outdated system and replace it with one that will last, you want a dependable company with licensed and insured roofers to do the job. Find peace of mind in knowing that Abel & Son offers high-quality work and great customer service all while using top-grade materials. Once you see how great the end result is, you will be happy to trust the company to provide you with other home services like window and siding installation.