Professional Siding Contractors Serving Lancaster Pa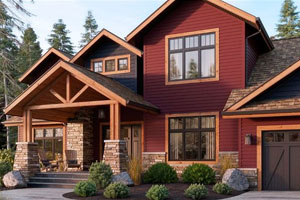 Give your home the fresh new look it deserves with our siding contractors in Lancaster PA. We offer quality work and reasonable rates, along with excellent service to make sure you're satisfied every step of the way!
Our committed siding contractors give each project their full attention, providing residents in Lancaster PA top-notch siding installation. We don't take any project lightly, which is why you can count on us for durable work with beautiful finishes – no matter what kind of style or color preference your home has! Our team offers different types and styles of panels so there will never again be an issue when it comes time makeover yours at affordable prices because not only do they come in many colors but also have energy-efficient features as well making them less costly over the long run than other options out there. Contact our siding contractors in Lancaster Pa to get started!
Get Your Free Lancaster Siding Quote Now
We Use Quality Materials In Our Siding Repair Jobs In Lancaster PA
Our siding repair company in Lancaster PA uses only the highest quality materials in all of their jobs. We are a family-owned and operated business that takes pride in our work and have been serving the Lancaster community for over 30 years. We are a fully licensed and insured company that offers free estimates for our siding services.
When searching for a local and trusted siding repair contractor in Lancaster PA, look no further than Abel & Son. We have a team of experienced professionals who will work diligently to get the job done right, and always go the extra mile to ensure that our customers are satisfied. Contact Abel & Son today to learn more!
When you're ready to hire siding contractors in Lancaster, choose a company that's highly experienced. We're ready to work on all types of properties from simple ranches to large, luxury homes. We finish projects on time and in budget, so you can start enjoying the new look of your home sooner. We're highly experienced and authorized to work with a range of siding companies, including Certainteed Monogram and Mastic Quest siding. We also offer many color options from both manufacturers: Certainteed siding colors & Mastic siding colors.
See Why People In Lancaster PA Choose Our Siding Installation Services
We are committed to providing a hassle-free experience for our customers. Our professionals will take care of everything, including pulling permits and disposing old siding so you can enjoy our siding installation without worrying about any pesky nails or construction debris left behind! Choose from our variety of siding materials and styles that will fit your home perfectly. For Lancaster siding installation you can trust, contact Abel & Son.
Contact Our Siding Contractors In Lancaster Today!
If you're looking for top-rated siding contractors in Lancaster PA, Abel & Son should be your top choice. We provide high-quality siding services at an affordable price and always put our customers first. Feel free to contact our siding contractors in Lancaster PA for more information about the services. We would be happy to answer any of your questions and provide you with a free, no-obligation quote. We hope to hear from you soon!