Siding Lebanon PA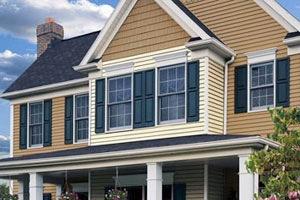 If you're looking for Lebanon siding contractors who can install siding for residents in Lebanon, PA, Abel & Son can assist you. Our company offers several types of siding which include CertainTeed Monogram and Mastic Quest vinyl siding. These brands are known for their high weather resistant performance. We strive to produce the best service and installation so that our customers can feel safe as well as proud of their home's appearance. Our company stands out among the best Lebanon siding companies.
Reach Out for a Free Siding Quote Today
Certainteed Siding
We recognize the natural beauty of wood and how attractive it can make a home. We also recognize the high price that is often associated with wood siding. However, our company offers reasonable prices for the installation of natural cedar siding. If you choose to have CertainTeed Monogram Siding installed, you'll gain many benefits such as a self aligning locking system called CertiLockTM, a Patented STUDfinder, TruTextureTM rough cedar finish molded from real cedar boards, and Class1(A) fire rating in addition to:
Siding with .046 thickness and ¾ panel projection
Low maintenance
Limited lifetime warranty
30 siding and trim color options
Monogram 46L compatibility
RigidFormTM 220 Technology which can withstand wind up to 220 mph
Mastic Siding
This type of siding comes with a sustainable formula, designer accent sustainable formula, a V.I.P. limited lifetime warranty, Mastic Hang ToughTM Technology, TruTexture rough cedar finish molded from real cedar boards and Patented T3-LokTM locking system. Mastic Quest also has a Duranyl 50000 protection system. Additional features include:
35 color options including Terra Cotta and Russet Red
Class 1(A) fire rating
Tornado and 240 mph wind tolerant with double nail hem
No need for painting
Trust Abel & Son to Install Your Siding
When you invest in Abel & Son we will install vinyl siding Lebanon PA homeowners can feel confident about and know that you're purchasing quality materials and hiring the right company to complete the job. We've successfully installed siding for homeowners for more than 20 years and we're confident that we can install siding on your home in a highly satisfactory manner.
We also use Premium ALCOA coil to complete capping and trim applications. As a result, your siding will last a long time without the need for extensive maintenance. These high quality siding products will give your home a new makeover and will continue to present a polished look. We stand by our service and installation guarantee as one of the best siders in Lebanon.