The Trusted Window Replacement Experts in Harrisburg, PA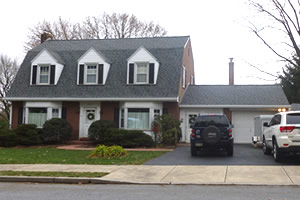 If you're looking for vinyl windows in Harrisburg PA, look no farther than Abel & Son. We take great pride in only offering our customers the very best – and our windows are no exception.
Affordable Replacement Windows for Every Home
New windows make a home look newer and also provide better insulation and climate control. Abel & Son offers affordable window replacement in Harrisburg, PA with Harvey Industries Classic vinyl window replacements. These windows are available in double hung, bow, bay, awning, and sliding styles. Whatever your specific needs, we can ensure that your windows match your style.
The installation of new windows can lower your energy bills. Our fully welded sash and frame design and air-tight seal is made to ensure that wind, water, and outside temperatures remain outside, leaving the interior of your home a comfortable temperature, unaffected by the outside world.
Harrisburg's Energy-Efficient Window Alternatives
The windows are double-pane and filled with Low-E Argon, which earns the Energy Star partner rating. This ensures that you'll save money on your heating and air conditioning bills. But it also extends the life of your heating and air conditioning units by easing the load on them.
Energy efficient windows also cut down on the ultraviolet rays that enter your home. If you like to open the curtains or blinds and let in natural light during the day, updating your windows can cut down on the fading of your belongings and extend the life of the things you love.
Double-pane windows also help eliminate outside noise that comes into your home with older, single-pane windows. This will allow you to enjoy the peaceful serenity of your home, turning it into the oasis it should be.
Getting the Window Styles You Prefer
Our vinyl windows in Harrisburg, PA also come in a variety of styles, colors and options. This means you can be assured that your replacement windows will not only increase energy efficiency, but also improve the resale value of your home by making it more visually appealing. Installation hardware is color-matched to the window frame, creating a seamless visual that is both beautiful and functional.
Both the top and bottom sash tilt in so that you can easily clean both sides of the windows without running back and forth between the inside and outside of your home. They also come with ventilation limit latches that allow you to keep the top or bottom sash only partially open.
Benefits of New Windows for Harrisburg, PA Homeowners
Your affordable window replacement in Harrisburg PA will also help to increase the security of your home. Older windows may not have secure locks, and may also have a loose fit that makes it easier for intruders to enter. By updating to our custom made to fit windows, you'll ensure that your windows are a perfect fit, with secure locks.
Additionally, the custom made to fit nature of our windows cuts down on both installation time and mess, ensuring that your old windows are removed and the new ones are installed in less time and more smoothly.
New windows will also cut down on the maintenance your home requires. With our vinyl windows, you won't need to paint the frames anymore. Cleanup is easy with a simple pressure washer or even soap and water with a rag. Less maintenance means more time to do what you love, both inside and outside your home.
If you've been on the fence about whether to replace your windows, it's time to stop thinking and give us a call today. When you're ready for new vinyl windows in Harrisburg PA, call Abel & Son for your free quote. The sooner you call, the sooner you can enjoy your new beautiful windows.