Spring Maintenance Checklist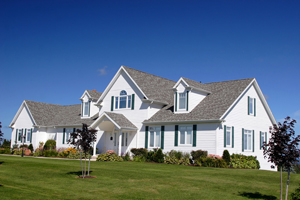 Winter is giving way to spring, which means it's the perfect time to begin checking your roof for damage caused by the past season's incessant rains, heavy ice and snow, whipping winds and freezing temperatures. Use this springtime roof maintenance checklist to help you:
Safety First
Roof maintenance can be dangerous if you don't take appropriate precautions. Before you begin, find someone to be your safety buddy as you work. Use safety gear whenever possible, such as professional metal ladders, safety harnesses, gloves, goggles and other protective gear. Additionally, take care that you don't lean or grab onto surfaces that are wet or loose.
Remove Debris
Debris removal is important because it cleans the surface so you have a clear view of your roof. When you're certain the roof is dry, brush away leaves, branches and other accumulation, including debris in the gutters and downspouts and around the soffit and fascia, before you perform any other inspections or maintenance. As you clean, remove mold or moss buildup as well.
Note Roof Damage
Once you've cleaned the roof, check everywhere for primary damage, such as missing sand on asphalt shingles, cracks in slate shingles or rust on metal panels. After you've completed this assessment, start searching for less obvious issues, such as stains that might indicate leaking under the roof, popped up nails or loose flashing.
Besides the main areas, also take a look at the gutters, downspouts, chimneys and any other areas where damage might have occurred over the winter. Note any gaps or loose sections, damaged seals, wood rot, missing mortar or bricks, cracks and peeling paint.
Make a Decision
If you have the skill, repair any damage you find. If you don't, call Abel & Son Roofing & Siding to complete the repairs.
Keep in mind though that repairs alone can't always fix a problem. Severe damage, as indicated by attic ceiling leaks, wood rot, roof curling, extreme shingle loss and soft spots, often requires complete roof replacement.
Turn to Abel & Son to help you determine if entire roof replacement is necessary. Our experienced roofers will visit your home, evaluate the damage and provide guidance. Abel & Son provides exterior services all over South Central PA, specializing in roofing Lancaster PA, Lebanon PA, Dauphin Counties and the greater Harrisburg area.
Installing a New Roof
Of course, when you need a new roof, the signs will be obvious. You will have discolored walls or cracks in the drywall. When it storms outside, there will be leaks coming from the ceiling. From the outside, you can see that moss is growing on top of the shingles. When it comes to checking off boxes on your spring maintenance list, the best solution is to have a roofing professional give you a roof inspection. At Abel and Son, we are ready to help homeowners replace their roof and remove all of the damage caused by winter elements. To get started, give us a call.
Get a Quote