Five Reasons Vinyl Siding is the Top Choice Among Homeowners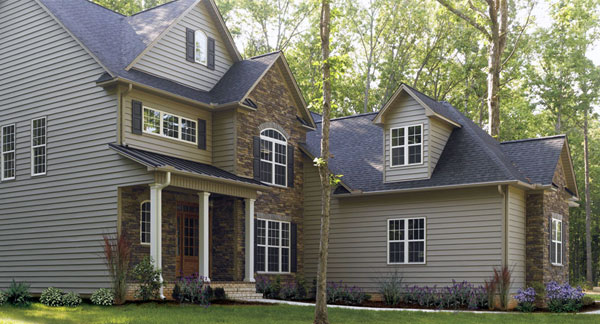 Benefits of Vinyl Siding
Average looking homes can be transformed into something beautiful when you invest in vinyl siding. In addition, if you have ever owned a dwelling where the siding was in poor repair, you are aware of the significant impact of these scenarios on your cooling and heating bills. Vinyl siding provides a vast array of benefits, from those that are aesthetic in nature–such as the Mastic siding colors from which you can choose–to lower fuel bills due to better insulation.
Most homeowners prefer vinyl siding over other siding materials. This trend is likely to continue in the future, as there are myriad benefits associated with siding of this kind. One big advantage is the insulating qualities of vinyl. Because it is a slow conductor, heat and cold do not transfer through vinyl as quickly as aluminum or other exterior cladding materials. For this reason, homes that are sided with vinyl stay warmer in the winter and cooler in the summer, thus leading to a lower overall fuel bill. We also add a moisture/wind barrier such as Tyvek or Typar underneath the siding to wrap the house.
Low Maintenance
Certain materials require a high level of maintenance. For example, cedar siding must be stripped and repainted on a regular basis to preserve the wood and avoid a shabby appearance. However, vinyl is essentially maintenance-free and provided it is kept clean, offers exceptional longevity without any special care. Aluminum Siding "chalks" and needs constant re-painting.
Eco-Friendly
Vinyl siding is also a great choice for those who are concerned about the environment. Among all exterior materials manufactured for homes, vinyl is the "greenest" choice available on today's market. This is because it has a high sustainability factor, therefore, a great eco-friendly option.
Beauty and Versatility
You will be pleased to discover that our broad range of Certainteed siding colors are available and it is virtually guaranteed that your home will boast more curb appeal once it features a new, attractive exterior. Additionally, you can invest in various accessories and trims in a variety of colors, which will also enhance the beauty of your home.
Durability
Another benefit associated with investing in vinyl siding is the product's durability. Vinyl siding is virtually indestructible and is resistant to fading, insects, and harsh weather. For example, certain brands are able to resist winds of up to 200 miles per hour. This means your home will be protected from various types of storm damage during inclement weather. Additionally, industry-leading warranties are offered with Certainteed and Mastic brands of vinyl siding, which are usually good for the lifetime of the home.
Regardless of your specific goals regarding home improvement projects, it is always a good idea to compare several colors and styles prior to making a final decision. Additionally, you should hire a professional, like Abel & Son, for your vinyl siding installation. This will ensure your investment will pay off in the future, as we install the most top-quality vinyl siding Harrisburg PA, Lancaster PA, and Lebanon PA has to offer. Siding made from attractive and durable vinyl can transform the appearance of your home overnight. Therefore, if your goal is to increase the value and improve the appearance of your home, vinyl siding is an ideal choice.
Get a Quote