Is Your Roof Streaking?
How algae devalues your home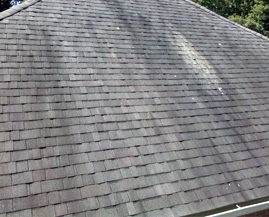 Have you ever driven through your neighborhood and noticed that a lot of your neighbors have black streaks on their roofs? It's algae that feeds on the asphalt holding the shingles together, and it can spread to your roof too.
The algae's technical name, Gloeocapsa Magma, appears in regions that are hot and humid. Plus, those homes that are in the woods develop the algae faster because of the extra shade cover.
Heat and humidity encourage the algae to grow and spread throughout your roof and onto your neighbors' roofs. The alga gives off spores that travel through the air to find new places to live.
In the Harrisburg, Lebanon, and Lancaster areas, our summers are humid and hot for several months which enables the algae to grow and infest roofs. And the results are bad for your home if you have black streaks on your roof. Black streaking makes your home look old and ugly. Plus, it devalues your home's worth if you're planning on putting your house on the market in the near future.
What can you do about black streaking on your roof?
There are cleaners out there to use on your roof. However, regular roof cleaning will eventually damage your roof's shingles, as well as it's dangerous for you to keep climbing your roof to clean it.
A better option for you would be to invest in roofing that is protected against algae damage and/or offers you a warranty for professional roof cleaning.
TAMKO Heritage roof shingles are algae resistant, and are made with materials that slow down black streaking algae growth. TAMKO, a trusted roofing brand, created Heritage Laminated Asphalt Shingles to protect your roof against Gloeocapsa Magma. Additionally, TAMKO's roofs are known for their beauty and durability.
Here are some other Heritage's attributes:
The shadow-tone granule blend adds extra richness and depth to your roof
Heritage roofs are built with an extra thick, weather-resistant construction to provide you and your family years of protection from the elements
TAMKO Heritage roofs are made with a double-layer of fiberglass mat for extra strength
Backed by the manufacturer's 30-year Limited Warranty
These roofs are backed with a manufacturer's limited warranty for professional roof cleaning
And they include a manufacturer's 10-year algae relief/algae cleaning limited warranty
Are there black streaks growing on your roof?
If you're looking for roofing companies Elizabethtown PA based company, Abel and Son, will come to your home in Harrisburg, Lebanon, or Lancaster to install your new Heritage roof.
If you live in the Harrisburg/Hershey area, call them at 717-361-8406. If you live in the Lebanon/Palmyra area, call them at 717-272-7799. And if you're in the Lancaster area, call them at 717-560-9476.
Get a Quote